Meet Bertie
Bertie is now ready to find a new youngster home and has the potential, in the future to be backed as a small riding pony or to begin driving. As with all youngsters, Bertie will need consistent handling to ensure his education on the ground is maintained but, for now, he could happily live with other ponies on the same restricted grazing management as a companion or, when settled, do some agility or in hand showing. He is very sweet and curious and knows all about his basic handling tasks. He is used to having company which will be important in the home. Although he lives out, Bertie has spent short periods learning about standing in a stable and is comfortable with this so long as he has a hay net to keep him occupied. We would love to find a home for Bertie with someone who has had youngsters before and is looking for a project to start from the ground towards ridden or driven work when he is old enough.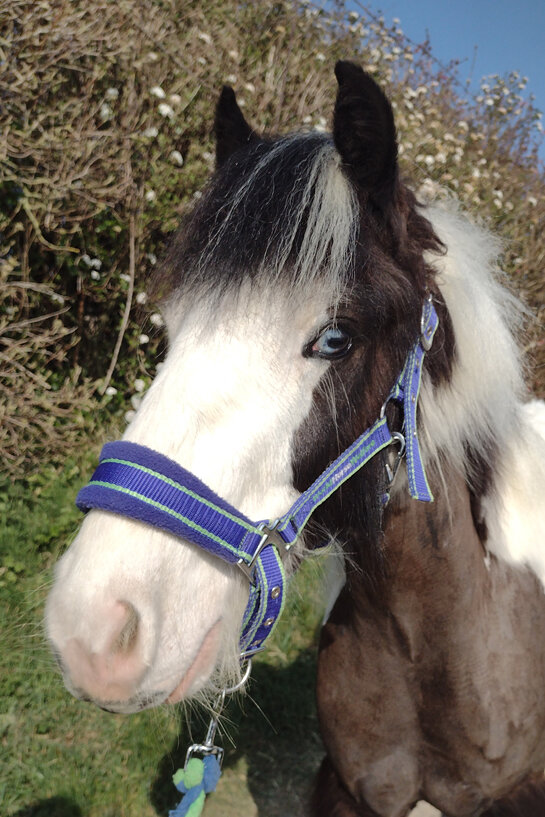 Important stuff
Bertie could be worked in the future.
History
Bertie came in to Glenda Spooner Farm in the winter of 2019 with several other ponies as part of a welfare concern. He was successfully rehomed for over a year and only returned due to a change in his rehomers circumstances
Additional Images
More about Bertie
| | |
| --- | --- |
| Breed | Cob |
| Colour | Piebald |
| Type | Pony |
| Stabling/Shelter | Can live out all year with shelter |
| Turnout | Geldings only |
| To catch in the field | Excellent |
| Hay/Feed | No additional feed required |
| Feet | Unshod, good to trim |
| Rugs | Doesn't need a rug |
| Behavioural considerations | Typical friendly, curious youngster who responds well to quiet consistent handling. |
| Health considerations | None |
| Bedding | Straw or shavings |
| Rehoming fee(£) | 50 |
Bertie is at Glenda Spooner Farm, Somerset
Glenda Spooner Farm is located on Brincil Hill, between the B3151 and the A372, just outside of Kingsdon, Somerset, TA11 7LA.
Do you want to offer Bertie a home?
To apply to rehome, add Bertie to your virtual stable and then complete our online application form.
Add Bertie to your stable
Why rehome from World Horse Welfare
More horses from Glenda Spooner Farm