Companion
Aberdeenshire
Mare
11 years old
11.2hh
Potential home found
Meet Twinkle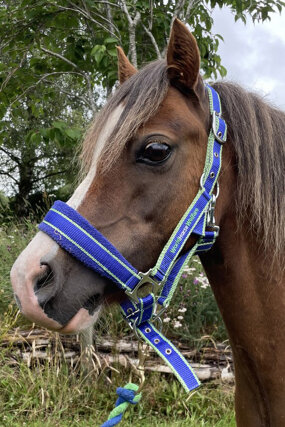 Potential home found
Twinkle is a sweet little mare that has a big personality and a larger than life character. She is a beautiful welsh pony that is looking for a new home as a non-ridden companion. Due to Twinkle's poor movement and temperament she is not suited as a ridden pony. She can be a little bit shy around new people to begin with but don't let that fool you as her cheeky side will emerge as soon as she settles in. Once Twinkle gets to know you she is a delight to handle and always tries her best to please. Like many Welsh ponies she can have some spooky moments so will need a confident, competent handler out on loan. Twinkle can be quite possessive of her friends in the paddock so is best suited to living with more submissive ponies as she enjoys being bossy. She must live on restricted grazing to prevent her becoming overweight and getting laminitis and would suit a home with ponies on similar management. Twinkle is still gaining confidence with our farrier so may need a little bit of food the first couple of times she has her feet done out on loan as she will need to get used to a new person. Twinkle has diastemas so will need her teeth checked by a vet every six months to ensure she remains comfortable. If you would like this lovely, little mare to join your gang of ponies, please apply online.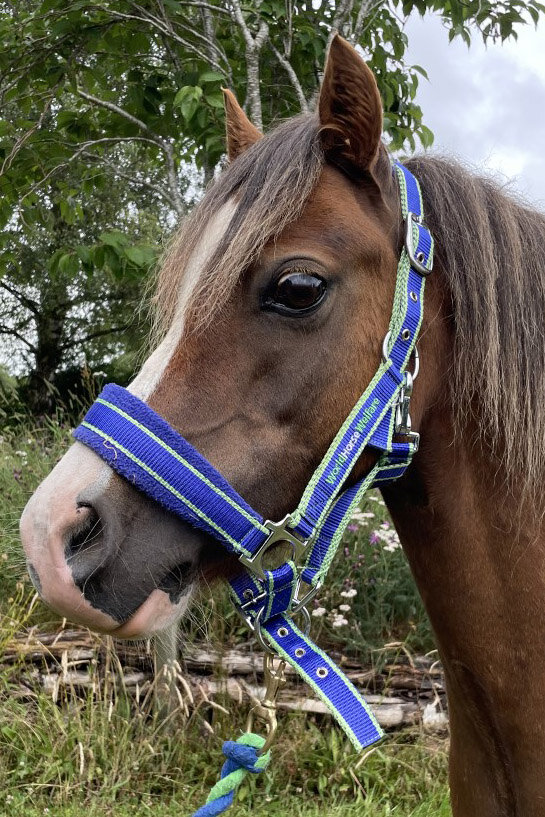 Important stuff
Twinkle can never be ridden or driven.
All equines in our centres are regularly assessed by a team of experts including a vet, physiotherapist and farrier, and these assessments have found that Twinkle is not suitable to be worked.
History
Twinkle came into World Horse Welfare care in March 2021 with four other ponies as part of a welfare case.
More about Twinkle
| | |
| --- | --- |
| Breed | Welsh Section A |
| Colour | Chestnut |
| Type | Pony |
| Stabling/Shelter | Can live out all year with shelter |
| Turnout | Will mix with mares |
| To catch in the field | Good |
| Hay/Feed | Hay during the winter |
| Feet | See horse's profile for details |
| Rugs | Doesn't need a rug |
| Behavioural considerations | Twinkle is shy to begin with but has a lot of character once she settles in. |
| Health considerations | Needs weight monitoring |
| Bedding | Straw or shavings |
| Rehoming fee(£) | 20 |
Twinkle is at Belwade Farm, Aberdeenshire
Belwade Farm is located in the breathtaking countryside of Royal Deeside, Aberdeenshire, Scotland, just off the A93 close to Kincardine O'Neil, AB34 5BJ.
Find and apply for a horse

Browse or search our range of horses ready for rehoming (the word 'horse' includes horses, ponies, donkeys and their hybrids). Once you have selected your horse(s), click the 'Apply to Rehome' button to go to our online application form. Your details will be saved to make it easier for you to check the status of your application as well as to apply for other horses in the future.

Application reviewed

The team at our Rescue and Rehoming Centre will review your application and get back to you as soon as they can, usually within two weeks. Do keep an eye on your junk email if you don't hear from us!

Meet the horse

If we think you sound like the best match for that horse, we will call and ask you to visit the Centre in order to meet them. If you intend to rehome a companion, we may ask you to groom or handle the horse. For ridden, driven, youngster or project horses, we will also assess your riding/driving and groundwork abilities as appropriate.

Home visit

Once everyone is happy that the right match has been found, one of our friendly Field Officers will visit you and the location where you intend to keep the horse. This is simply to check that the site is safe and suitable for the horse you have been matched with.

Vet check

Once our Field Officer has visited and approved the location, our vet will give the horse one last check before you take them home.

Take your horse home!

Once these steps have been successfully completed, you will need to become a World Horse Welfare ChampionPlus member, pay your one-off rehoming fee and sign the Rehoming Agreement. Once that is done, you can take the horse home!
We've included our top six questions here but you can find the full list here.
How often is the site updated?

Our rehoming pages are updated on a weekly basis, usually on a Wednesday afternoon, so please do keep checking back if you can't see a horse who's right for you straight away. We generally advise checking once a week to make sure you don't miss the opportunity to apply, as ridden horses are often extremely popular and can receive a large number of applications very quickly.

Can you add me to a waiting list?

We no longer hold a waiting list as, due to the sheer volume of applications we receive, we found this not to be an effective system. Instead, we ask potential rehomers to monitor the website and apply for any individual horse which is of interest. However, we hope people will be able to register for email alerts in future. Our rehoming pages are updated on a weekly basis, usually on a Wednesday afternoon, so please do keep checking back if you can't see the horse who's right for you straight away.

Do you have catchment areas?

We don't have catchment areas so you are welcome to apply for a horse at any farm, but do bear in mind that you will usually be asked to travel to the relevant farm to meet your chosen horse and you would also have to arrange transport to take the horse home should you be successful – plus not all our horses can travel long distances.

Can I come and see a horse I'm interested in?

You will need to apply through our website and we will invite the person who appears to be the best match for the horse to come and meet them. Please note that you can only visit the farm to meet the horse if you have been invited by the team.

Do you rehome ridden or driven horses?

We do rehome ridden and driven horses, but they are often extremely popular and can receive a large number of applications very quickly. These horses can be found by searching the relevant category. If you are looking for a horse who has the potential to be ridden/driven in the future, we do have a range of other categories in our rehoming scheme such as companion with potential, youngster or project horse which are searchable under the 'Prospect' category. These categories allow currently non-ridden horses to be rehomed to a suitably experienced home with the aim of bringing them into work in the future. If you're interested in rehoming a horse with the potential to be brought into work but don't personally have the experience to back the horse, we would still consider an application if you have an appropriately experienced support network.

What costs are involved in rehoming?

Before you take the horse home you will need to pay a one-off rehoming fee (displayed on the individual horse's profile) and become a ChampionPlus Member of World Horse Welfare. You will need to maintain this membership for as long as the horse is with you – this is our way of ensuring that all of our rehomed horses are covered by third-party liability insurance. Our horses are not rehomed with any tack, rugs or equipment and rehomers are responsible for all day-to-day costs, including any veterinary fees, as well as transport from and to the relevant rehoming centre.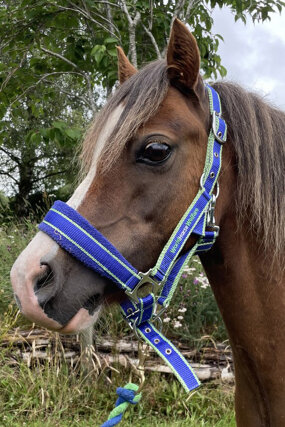 Why rehome from World Horse Welfare
More horses from Belwade Farm