Meet Polly
Polly is a very pretty mare who was signed over to our care as part of a large welfare concern. We suspect that despite her age she has had very little handling in her previous home. For this reason it is important she goes to an experienced home and a person with the time to help her make up for the education she may have missed in the past. Polly can get unsettled in new situations so would benefit from a routine and consistent handling. Although Polly can be a nervous young lady she is eager to trust her handler and she enjoys a groom and the interaction that comes with that. She is obviously a very affectionate and loving horse and given time and experience to build her confidence we believe she will blossom into a lovely non-ridden companion.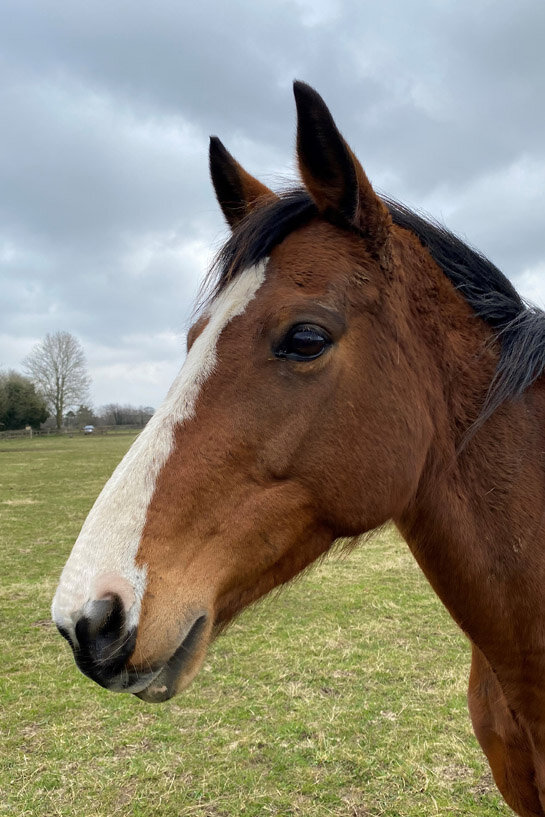 Important stuff
Polly can never be ridden or driven.
All equines in our centres are regularly assessed by a team of experts including a vet, physiotherapist and farrier, and these assessments have found that Polly is not suitable to be worked.
History
Polly was signed over to our care as part of a large welfare concern in November 2021. There were 17 Thoroughbreds in total and most were unhandled.
More about Polly
| | |
| --- | --- |
| Breed | Thoroughbred |
| Colour | Bay |
| Type | Horse |
| Stabling/Shelter | May stable part time if introduced gradually |
| Turnout | Will mix with mares & geldings |
| To catch in the field | Good |
| Hay/Feed | May require extra forage - grazing dependent |
| Feet | Unshod |
| Rugs | Doesn't need a rug |
| Behavioural considerations | Polly is nervous but despite her anxiety she shows signs of being an affectionate, loving horse. She needs an experienced, calm handler and she mixes well with other horses. |
| Health considerations | None |
| Bedding | Any bedding |
| Rehoming fee(£) | 20 |
Polly is at Hall Farm, Norfolk
Hall Farm is located in the beautiful Norfolk countryside on a quiet lane less than ½ a mile from the A11. Just follow the brown tourist signs for World Horse Welfare between Attleborough and Thetford, NR16 2LP.
Do you want to offer Polly a home?
To apply to rehome, add Polly to your virtual stable and then complete our online application form.
Add Polly to your stable
Why rehome from World Horse Welfare