Meet Boris
Boris is now ready to find an adult companion home where he can have lots of interaction from other geldings. Importantly, he will need to continue with his basic handling on the ground on a regular basis. He is a very bright, busy little pony who has gradually built up correct handling skills over time with consistency and positive reinforcement. We are only looking for a home for Boris with someone who has a good practical knowledge of youngsters and their handling needs plus, a small yard with geldings only. He currently lives out 24/7 on restricted grazing and this would be the best routine for him in a home with access to a yard and stabling as required. Being a young pony who does like to play with his field friends, a home with ponies who enjoy this too, would be perfect. As he is very bright it would be really beneficial for him to participate in horse agility or in hand work which would be great for his busy brain and formative years.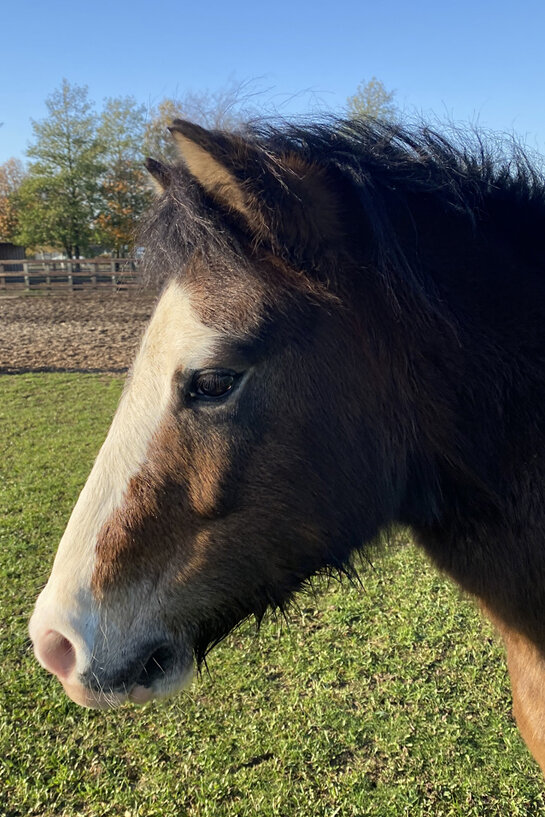 Important stuff
Boris can never be ridden or driven.
All equines in our centres are regularly assessed by a team of experts including a vet, physiotherapist and farrier, and these assessments have found that Boris is not suitable to be worked.
History
Boris came into our care in 2020, he was abandoned when he was only a few weeks old. He was hand reared at the centre until old enough to be weaned and join new friends.
More about Boris
| | |
| --- | --- |
| Breed | Native |
| Colour | Bay |
| Type | Pony |
| Stabling/Shelter | Can live out all year with shelter |
| Turnout | Geldings only |
| To catch in the field | Good |
| Hay/Feed | Feed needed to give supplement |
| Feet | Unshod, good to trim |
| Rugs | Has never worn a rug |
| Behavioural considerations | Boris is a bright pony with a friendly temperament, he is quite busy and due to his young age he needs firm boundaries. |
| Health considerations | None |
| Bedding | Straw or shavings |
| Rehoming fee(£) | 20 |
Boris is at Hall Farm, Norfolk
Hall Farm is located in the beautiful Norfolk countryside on a quiet lane less than ½ a mile from the A11. Just follow the brown tourist signs for World Horse Welfare between Attleborough and Thetford, NR16 2LP.
Do you want to offer Boris a home?
To apply to rehome, add Boris to your virtual stable and then complete our online application form.
Add Boris to your stable
Why rehome from World Horse Welfare
More horses from Hall Farm