Meet Jimmy
Jimmy is ready to find a non ridden companion home where he can have a little interaction daily from a rehomer and equine friends to bond with. He would be suited to a gelding home as he was only gelded in October 2021. He is very inquisitive and loves attention from people, often falling asleep in the field when he is groomed. Jimmy is good in a stable and although he lives out, this could be part of his routine in a home. As he does like to play with his friends in the field, he would be suited to ponies who also enjoy this. If another pony was ridden, he could learn to stay on his own for short periods after gradual introduction. Jimmy would need restricted grazing but may need supplementary forage in winter. He has also worn a turn out rug when the weather was very wet and cold.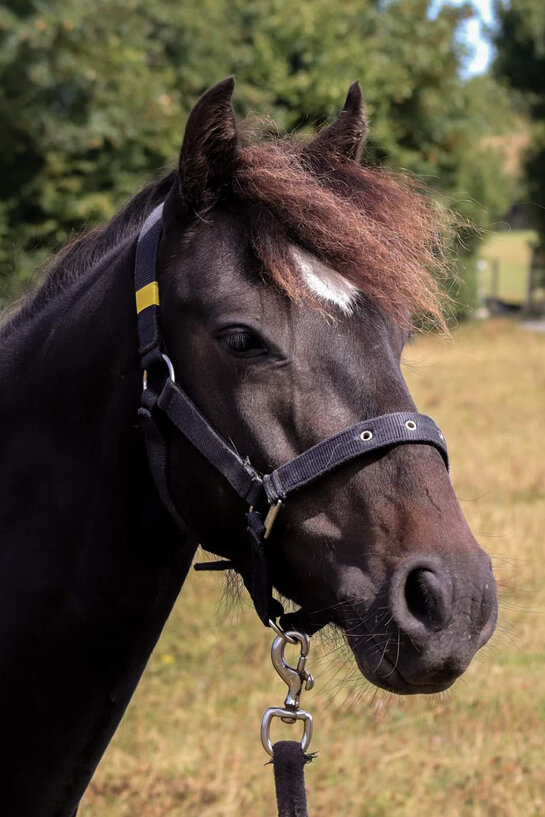 Important stuff
Jimmy can never be ridden or driven.
All equines in our centres are regularly assessed by a team of experts including a vet, physiotherapist and farrier, and these assessments have found that Jimmy is not suitable to be worked.
History
Jimmy came in to our care in the Autumn of 2021 as a welfare concern.
More about Jimmy
| | |
| --- | --- |
| Breed | Hackney |
| Colour | Brown |
| Type | Pony |
| Stabling/Shelter | Can live out all year with shelter |
| Turnout | Geldings only |
| To catch in the field | Excellent |
| Hay/Feed | May require extra forage - grazing dependent |
| Feet | Unshod, good to trim |
| Rugs | May need turn out rug in winter |
| Behavioural considerations | Jimmy is a very friendly pony and loves to play with his field friends. He would benefit from a confident handler |
| Health considerations | None |
| Bedding | Straw or shavings |
| Rehoming fee(£) | 20 |
Jimmy is at Glenda Spooner Farm, Somerset
Glenda Spooner Farm is located on Brincil Hill, between the B3151 and the A372, just outside of Kingsdon, Somerset, TA11 7LA.
Do you want to offer Jimmy a home?
To apply to rehome, add Jimmy to your virtual stable and then complete our online application form.
Add Jimmy to your stable
Why rehome from World Horse Welfare
More horses from Glenda Spooner Farm