Meet Pistachio
Pistachio is an an adorable little youngster and it is heartbreaking to know he was abandoned at only 6 to 8 months old. Despite being such a tiny little scrap on arrival at Hall Farm, Pistachio is developing into a lovely young man with quite a character. He has a very sweet nature with a bit of a cheeky side! So far he has been a quick learner and he is generally good to handle for his age. Due to his young age, we are primarily looking for a companion home for Pistachio, although he does have the potential to be backed to ride in the future when he is old enough. We are looking for a knowledgeable home with a person who has experience of youngsters and if he is backed in the future, someone who has experience with producing ponies to ride. Potential rehomers must be aware Pistachio must not be worked in any way (including lunging and long reining) until he is at least 4 years old. Pistachio may reach an adult height of 13.2hh although this is only an estimate as we have no information on his breeding. If Pistachio is ridden in the future he will have a maximum rider weight limit of 7.5 to 8 stones.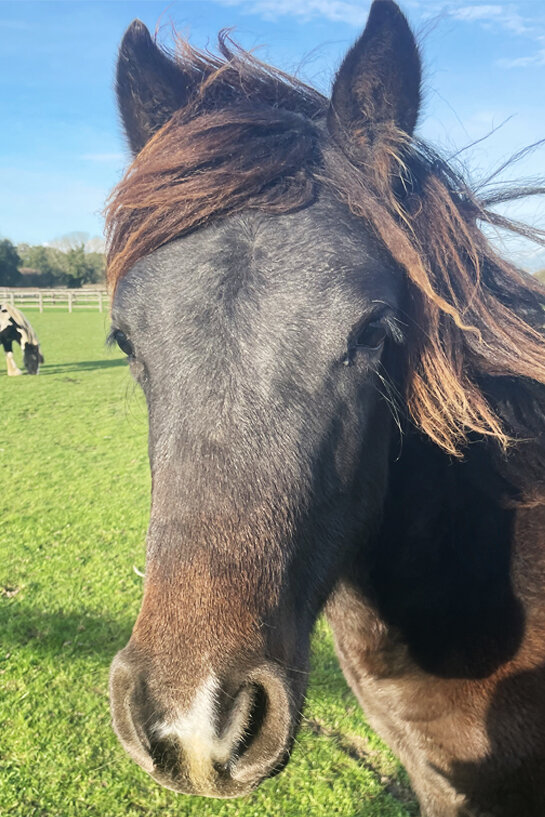 Important stuff
Pistachio could be worked in the future.
History
Pistachio was abandoned with another young colt and 2 fillies. He was only aged about 6 to 8 months
More about Pistachio
| | |
| --- | --- |
| Breed | Cross-breed |
| Colour | Dark Bay |
| Type | Pony |
| Stabling/Shelter | Can live out all year with shelter |
| Turnout | Will mix with geldings |
| To catch in the field | Good |
| Hay/Feed | Hay during the winter |
| Feet | Unshod |
| Rugs | Doesn't need a rug |
| Behavioural considerations | Pistachio is friendly little boy who is generally good to handle for his age, although he does have a bit of a cheeky side. |
| Health considerations | None |
| Bedding | Any bedding |
| Rehoming fee(£) | 50 |
Pistachio is at Hall Farm, Norfolk
Hall Farm is located in the beautiful Norfolk countryside on a quiet lane less than ½ a mile from the A11. Just follow the brown tourist signs for World Horse Welfare between Attleborough and Thetford, NR16 2LP.
Do you want to offer Pistachio a home?
To apply to rehome, add Pistachio to your virtual stable and then complete our online application form.
Add Pistachio to your stable
Why rehome from World Horse Welfare
More horses from Hall Farm