Meet The Minstral
The Minstral is a quirky little boy who will require an experienced handler. Although he is generally a poppet and really good to handle, he can change personality if his routine changes or something unsettles him. This has usually happened here when there has been a change in the herd dynamic and his sensitive nature has made him more reactive. On the whole Minstral is a great little pony and it could well be that in a quiet home with a regular routine and companion he settles down and this odd little quirk disappears with time. Minstral can only only share with geldings as he takes a little too much interest in mares and he will make a nuisance of himself.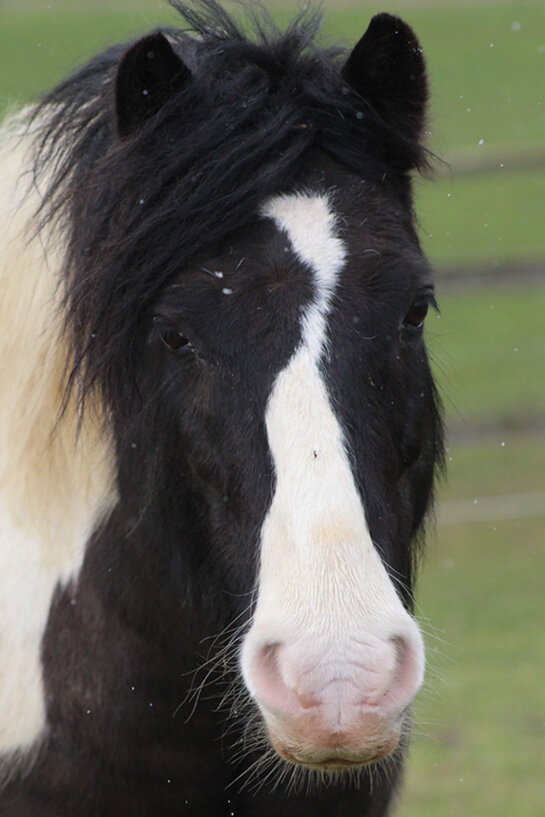 Important stuff
The Minstral can never be ridden or driven.
All equines in our centres are regularly assessed by a team of experts including a vet, physiotherapist and farrier, and these assessments have found that The Minstral is not suitable to be worked.
History
Minstrel cane into our care as a welfare concern. He was being treated for laminitis and the owner was unable to manage the condition. Since being at Hall Farm Minstrel's laminitis has been kept under control but he will always require restricted grazing and careful monitoring in the future.
More about The Minstral
| | |
| --- | --- |
| Breed | Cob |
| Colour | Piebald |
| Type | Pony |
| Stabling/Shelter | Can live out all year with shelter |
| Turnout | Geldings only |
| To catch in the field | Good |
| Hay/Feed | Hay during the winter |
| Feet | Unshod |
| Rugs | Doesn't need a rug |
| Behavioural considerations | Generally good to handle but can be reactive to a change in routine or if something unsettles him. This slight unpredictability makes him unsuitable for a child handler. |
| Health considerations | History of laminitis |
| Bedding | Any bedding |
| Rehoming fee(£) | 20 |
The Minstral is at Hall Farm, Norfolk
Hall Farm is located in the beautiful Norfolk countryside on a quiet lane less than ½ a mile from the A11. Just follow the brown tourist signs for World Horse Welfare between Attleborough and Thetford, NR16 2LP.
Do you want to offer The Minstral a home?
To apply to rehome, add The Minstral to your virtual stable and then complete our online application form.
Add The Minstral to your stable
Why rehome from World Horse Welfare
More horses from Hall Farm