Meet Echo
Echo is ready to find a new home as a non ridden companion due to soundness issues when ridden. Echo is a friendly horse, but can be a little cheeky, so he is better suited to a more experienced home. He gets on well with others, and is currently living in a large group of geldings unrugged with shelter, but is happy to come into a stable. He came to us with laminitis, so it is important that his weight is managed in his new home, and he will require restricted grazing in summer. He is good to catch, handle, groom and bath, and for the vet and farrier. Echo does not like being left on his own, so it is important he has company at all times. If you can offer Echo a home, please apply online.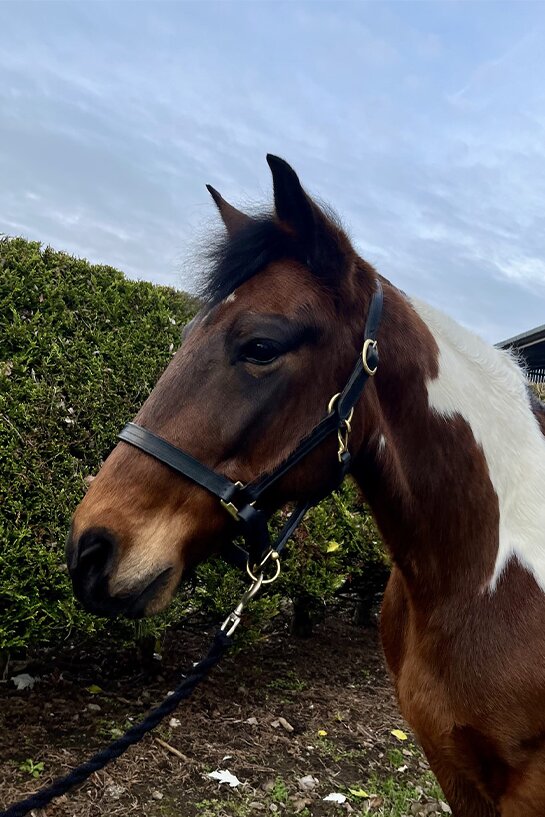 Important stuff
Echo can never be ridden or driven.
All equines in our centres are regularly assessed by a team of experts including a vet, physiotherapist and farrier, and these assessments have found that Echo is not suitable to be worked.
History
Echo came into Penny Farm after his owner was unable to provide the care he needed.
More about Echo
| | |
| --- | --- |
| Breed | Cob |
| Colour | Skewbald |
| Type | Horse |
| Stabling/Shelter | May require stabling for grazing management |
| Turnout | Will mix with mares & geldings |
| To catch in the field | Good |
| Hay/Feed | See horse's profile for details |
| Feet | Unshod, good to trim |
| Rugs | Doesn't need a rug |
| Behavioural considerations | Echo is a friendly horse, but does have a cheeky side to him. |
| Health considerations | History of laminitis |
| Bedding | Straw or shavings |
| Rehoming fee(£) | 20 |
Echo is at Penny Farm, Lancashire
The entrance to Penny Farm is situated on the A583, Preston New Road, near Peel Corner, Blackpool, FY4 5JS. Follow the brown tourist signs from the M55.
Do you want to offer Echo a home?
To apply to rehome, add Echo to your virtual stable and then complete our online application form.
Add Echo to your stable
Why rehome from World Horse Welfare
More horses from Penny Farm