Meet Dreamer
Dreamer is looking for a new home with an experienced handler who has the time to carry on building her confidence. When Dreamer arrived in summer 2022, she was very nervous of humans and had little confidence in new situations. Dreamer's groom has worked very hard building her confidence up through regular handling with some ground work to help her with her manners and find calm in new and stressful situations. Once she has created a bond with her handler, Dreamer is great to catch and come in to stand for a groom. When she does find herself in these stressful situations Dreamer can become bulshy, these situations can be when with the vet or farrier so she would need some time to settle and trust them. Dreamer is very good with our farrier now but can still become stressed with the vet, but it is manageable. She is most comfortable being out with her friends in the field and enjoys a mutual groom. In the summer months Dreamer will need her grazing monitored with the option to restrict the grazing if needed. Due to her confidence and conformational issues Dreamer is looking for a companion only home. If you think she is the right horse for you, please apply online.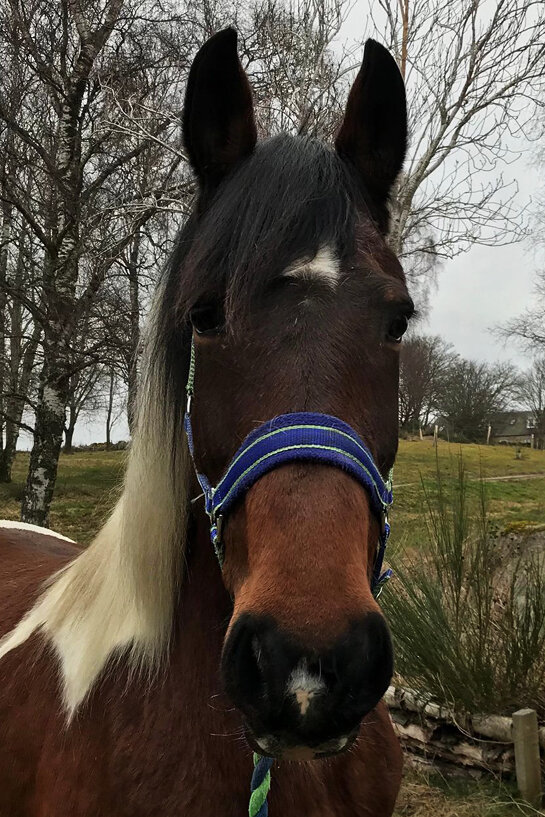 Important stuff
Dreamer can never be ridden or driven.
All equines in our centres are regularly assessed by a team of experts including a vet, physiotherapist and farrier, and these assessments have found that Dreamer is not suitable to be worked.
History
Dreamer arrived during the summer in 2022 very nervous and and trust issues
More about Dreamer
| | |
| --- | --- |
| Breed | Cross-breed |
| Colour | Skewbald |
| Type | Horse |
| Stabling/Shelter | Can live out all year with shelter |
| Turnout | Will mix with mares |
| To catch in the field | Cautious |
| Hay/Feed | Hay during the winter |
| Feet | See horse's profile for details |
| Rugs | Doesn't need a rug |
| Behavioural considerations | Dreamer can be quite cautious around new people but when she has created a bond with them she is very loving and affectionate mare. |
| Health considerations | None |
| Bedding | Any bedding |
| Rehoming fee(£) | 20 |
Dreamer is at Belwade Farm, Aberdeenshire
Belwade Farm is located in the breathtaking countryside of Royal Deeside, Aberdeenshire, Scotland, just off the A93 close to Kincardine O'Neil, AB34 5BJ.
Do you want to offer Dreamer a home?
To apply to rehome, add Dreamer to your virtual stable and then complete our online application form.
Add Dreamer to your stable
Why rehome from World Horse Welfare
More horses from Belwade Farm