Meet Merlot
Merlot is ready to be rehomed as a project pony with the potential to be brought of as a driving pony in the future. Due to poor conformation along his back, he would not be suitable for ridden work. Merlot has started his work on the ground and is learning to lunge and he has walked in hand really confidently round our local village with other ponies. Merlot would need a home with other geldings as he was a stallion on arrival to the centre in 2022. He is very good to handle and extremely inquisitive. He does need restricted grazing and this will be important in the home to manage his weight. As part of a routine, he could stable part time if required. We are looking for someone with a thorough experience of bringing ponies on with ground work with a view to driving him in the future.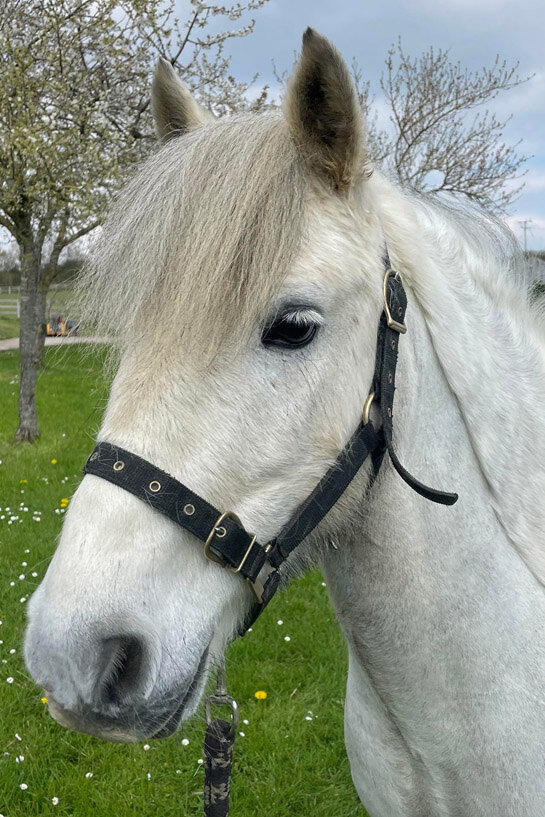 Important stuff
Merlot could be worked in the future.
History
Merlot came in to us as a stallion with a group of ponies due to their owners health deteriorating.
Additional Images
More about Merlot
| | |
| --- | --- |
| Breed | Welsh Cross |
| Colour | Grey |
| Type | Pony |
| Stabling/Shelter | Can live out all year with shelter |
| Turnout | Geldings only |
| To catch in the field | Good |
| Hay/Feed | No additional feed required |
| Feet | Unshod, good to trim |
| Rugs | Rug requirements dependent on season |
| Behavioural considerations | Very sweet and inquisitive |
| Health considerations | None |
| Bedding | Straw or shavings |
| Rehoming fee(£) | 50 |
Merlot is at Glenda Spooner Farm, Somerset
Glenda Spooner Farm is located on Brincil Hill, between the B3151 and the A372, just outside of Kingsdon, Somerset, TA11 7LA.
Do you want to offer Merlot a home?
To apply to rehome, add Merlot to your virtual stable and then complete our online application form.
Add Merlot to your stable
Why rehome from World Horse Welfare
More horses from Glenda Spooner Farm