Meet Ocon
Ocon is a lovely young gelding who is ready to find a brilliant new home with the potential of being a future child's pony. Ocon arrived as part of a large welfare case and was in poor condition, unhandled and entire on arrival. He was gelded at Belwade Farm and has come on brilliantly with his handling, proving to be a very willing and fast learner. Ocon is extremely friendly and has responded very well to positive reinforcement from his groom, although we try to keep treats to a minimum as he can get a bit nibbly. He is good for all his basic handling and happily comes in for a pamper. Ocon is still finding his balance with picking up his feet so can fidget with the farrier, but this is an area that is still improving with each visit. As he is still young and has not been handled for long, he can get a little worried in certain situations but even then, he is still relatively easy to handle. Due to Ocon's poor start in life he would benefit from another year of maturing before being assessed by a vet to begin work. He is 12HH so if he were brought into work in a year, he would only be suitable for a small child to ride; his combined saddle and rider weight limit will be 37kg. Ocon is a very affectionate little pony who is always pleased to see you and give lots of kisses; given more time to mature he has the perfect temperament to be a lovely family pony. He was gelded late so has only been turned out with other geldings. Although in poor condition on arrival he has gained weight quickly and is now proving to be quite a good doer so will need a home where his weight will be monitored and grazing restricted accordingly. Ocon has been used to living in a herd so has never been left alone but has been brought into the stables without a fuss. He would need plenty time to settle into a new home but may be happy in a stable whilst his field mates were ridden if this was introduced carefully. If you think this cute wee chap sounds right to join your family, please apply online.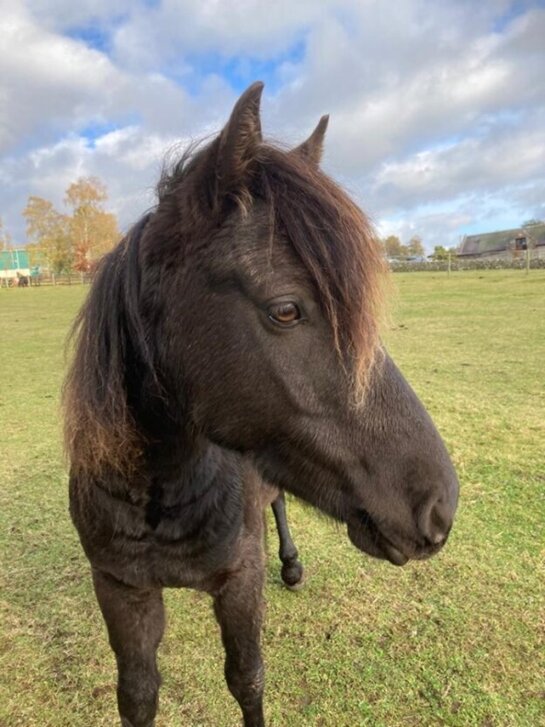 Important stuff
Ocon could be worked in the future.
History
Ocon came into World Horse Welfare care in April 2023 as part of a large welfare case of ponies. He was in poor body condition on arrival at Belwade Farm.
More about Ocon
| | |
| --- | --- |
| Breed | Native |
| Colour | Brown |
| Type | Pony |
| Stabling/Shelter | Can live out all year with shelter |
| Turnout | See horse's profile for details |
| To catch in the field | Good |
| Hay/Feed | Hay during the winter |
| Feet | Unshod, good to trim |
| Rugs | Doesn't need a rug |
| Behavioural considerations | Ocon is an extremely friendly and willing young pony with lots of potential in a new home. |
| Health considerations | Needs weight monitoring |
| Bedding | Straw or shavings |
| Rehoming fee(£) | 50 |
Ocon is at Belwade Farm, Aberdeenshire
Belwade Farm is located in the breathtaking countryside of Royal Deeside, Aberdeenshire, Scotland, just off the A93 close to Kincardine O'Neil, AB34 5BJ.
Do you want to offer Ocon a home?
To apply to rehome, add Ocon to your virtual stable and then complete our online application form.
Add Ocon to your stable
Why rehome from World Horse Welfare
More horses from Belwade Farm