Meet Tobias IV
Tobias is a sweet natured, genuine horse who desperately wants to please, but who worries he may get it wrong. He did not have the best start in life and this has led to some basic insecurities. Tobias was gelded at 3 years old and was sadly then kept permanently stabled 24/7 for the next 3 years. He really has a heart of gold, but unsurprisingly his past experience has knocked his confidence and he worries inwardly. Tobias has a lovely nature and when he has a handler that he can trust he will do anything he can for them. He is very inquisitive and loves attention. Tobias is very gentle with other horses and although he usually ends up at the bottom of the pecking order, he will be protective and caring with the smaller or weaker members of his herd. He is better living out with access to shelter. This beautiful boy truly deserves to find a very special home with a person with the time and patience to build his confidence.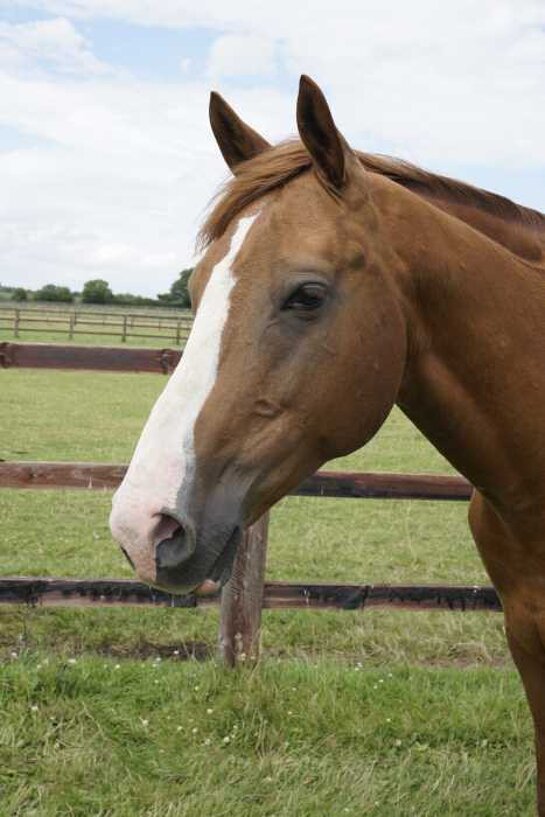 Important stuff
Tobias IV can never be ridden or driven.
All equines in our centres are regularly assessed by a team of experts including a vet, physiotherapist and farrier, and these assessments have found that Tobias IV is not suitable to be worked.
History
Tobias came to Hall Farm in December 2016 following a call from a concerned member of the public. Tobias had been gelded at 3 years old, but was then kept stabled 24/7 for the next 3 years as his owner was too afraid to let him out. Tobias was recently retuned from loan due to a change in the rehomer's circumstances. He was dearly loved and he came back with an excellent report.
More about Tobias IV
| | |
| --- | --- |
| Breed | Thoroughbred Cross |
| Colour | Chestnut |
| Type | Horse |
| Stabling/Shelter | Can live out all year with shelter |
| Turnout | Gets stressed if left completely |
| To catch in the field | Good |
| Hay/Feed | Hay and feed during the winter |
| Feet | Unshod |
| Rugs | Rug in winter |
| Behavioural considerations | He has an affectionate nature and he looks to his handler for confidence. Tobias has such a lot to give and he deserves a chance to show it. |
| Health considerations | None |
| Bedding | See horse's profile for details |
| Rehoming fee(£) | 20 |
Tobias IV is at Hall Farm, Norfolk
Hall Farm is located in the beautiful Norfolk countryside on a quiet lane less than ½ a mile from the A11. Just follow the brown tourist signs for World Horse Welfare between Attleborough and Thetford, NR16 2LP.
Do you want to offer Tobias IV a home?
To apply to rehome, add Tobias IV to your virtual stable and then complete our online application form.
Add Tobias IV to your stable
Why rehome from World Horse Welfare