Project Horse and Pony
Somerset
Gelding
8 years old
12.0hh
Horse rehomed
Meet Poet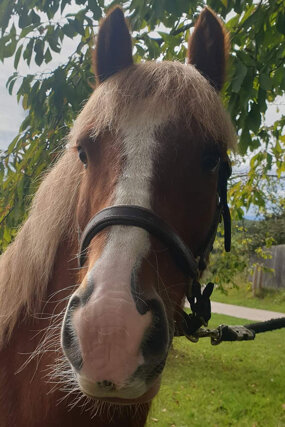 Horse rehomed
Poet is looking for a new home as a project pony where he can be brought on for potential driven work in the future. Due to a very short back, he would not be suited to saddle fit towards ridden work. He was rehomed for several years and had a good grounding in the home and has also restarted this at the farm. Poet is confident lunging and long reining in the arena and has also walked out in hand around our local village, meeting people and traffic and taking everything in his stride. He is a very sweet pony who is good to do in all ways. We are looking for a home with someone with an experienced background of bringing ponies on for driven work and who can give him all the time he needs to move forward on the next part of his journey. Poet currently lives out 24/7 on restricted grazing and will need to have this management in a home to avoid obesity. He is super friendly with other ponies so would also make a lovely companion to geldings.
Important stuff
Poet could be worked in the future.
History
Poet came into Glenda Spooner Farm in April 2017. He was incredibly wary to start with and it took quiet, patient handling to build his trust and confidence. After his rehabilitation, he had a lovely home for several years where he was brought on with all his ground work. He returned in 2022 due to a change in circumstances and restarted his ground work at the farm.
Additional Images
More about Poet
| | |
| --- | --- |
| Breed | Cob |
| Colour | Chestnut |
| Type | Pony |
| Stabling/Shelter | Can live out all year with shelter |
| Turnout | Geldings only |
| To catch in the field | Excellent |
| Hay/Feed | No additional feed required |
| Feet | Unshod, good to trim |
| Rugs | Does not require a turn out rug |
| Behavioural considerations | Poet is very good to handle but likes a quiet approach |
| Health considerations | None |
| Bedding | Straw or shavings |
| Rehoming fee(£) | 50 |
Poet is at Glenda Spooner Farm, Somerset
Glenda Spooner Farm is located on Brincil Hill, between the B3151 and the A372, just outside of Kingsdon, Somerset, TA11 7LA.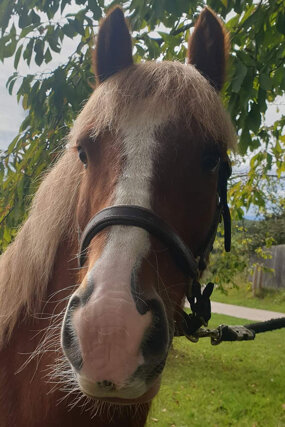 Why rehome from World Horse Welfare
More horses from Glenda Spooner Farm