Our fundraisers
Lyndsey Carswell describes how she, and her rehomed horse Icono, completed World Horse Welfare's 2019 Balmoral pleasure ride.
Lyndsey Carswell describes how she, and her rehomed horse Icono, completed World Horse Welfare's 2019 Balmoral pleasure ride.
Balmoral pleasure ride with World Horse welfare has got to be one of the best achievements I have completed this year. I was very fortunate to be able to take part in this event as I had only seen this advertised after the closing date for entries. I had been in touch with World Horse Welfare to ask if entries could still be taken, to get a reply saying I could still enter. I was delighted to be able to take part.
With only four weeks to go until the 'big challenge', Icono (who I rehomed from World Horse Welfare) and myself saddled up and began training. Completing just under 15k hacks we were confident enough we could beat our goal.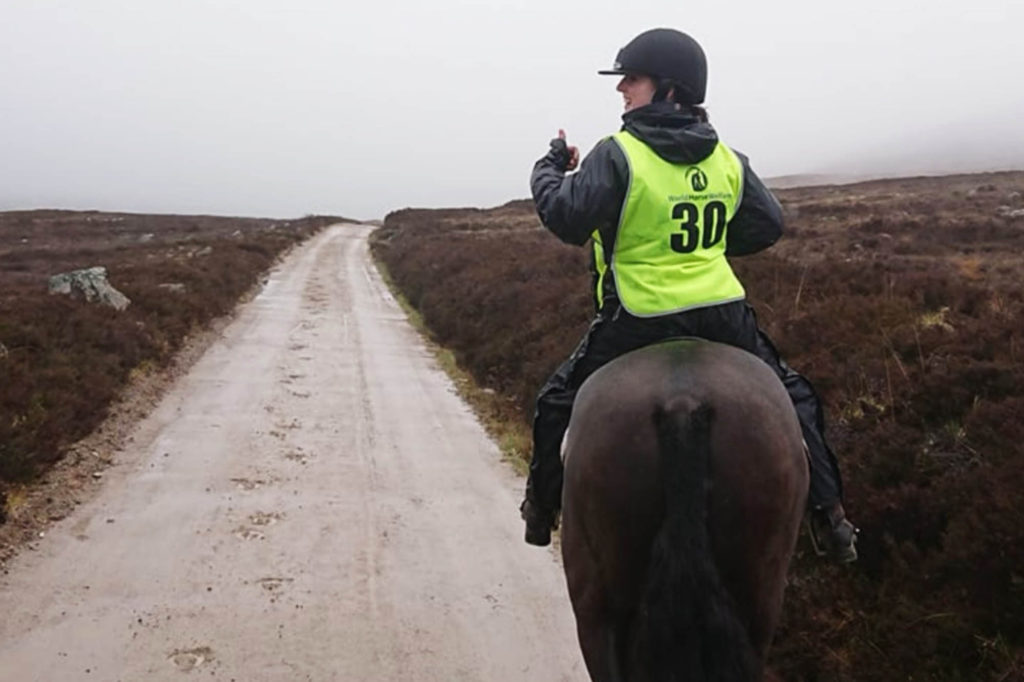 The morning of the event had arrived, I had set my alarm for 3AM!!, living so far north in the highlands meant we had a 3.5-hour (4 to be safe) journey ahead of us. Our start time was 10am, so an early start was a must. The rain had started as we set off at 5AM to arrive at Balmoral Castle at 8:30, the rain had followed us the whole way!
We were first to arrive (even before the event organisers) parked up the trailer and had a good stretch of the legs before we began our challenge. As time was ticking on, the waterproofs were on, even our 3 Jack Russells had theirs on, it was time to tack up and start our trail. My husband, Peter, supported me by walking along on foot with the dogs.
Even though the weather wasn't kind to us, the scenery of Balmoral Estate was lovely from seeing all the horses and different buildings to forest tracks up on the hill, we couldn't see very far as it was so misty but I'm sure on a good day the view is incredible! Heading back down into the estate, passing the castle we notice the royal rampant flag was flying. We had maybe thought the queen was attending as we know her love of horses but unfortunately there was no sign of her. We soon learnt that later the next day that she was in fact visiting! Maybe we will catch a cuppa the next time.
Finally reached the 15k mark, the sun decided to make an appearance, we were all glad to be finished! A very much deserved burger or two and a cup of tea to warm us up after all that rain, and not forgetting Icono, a feed and a rest was needed before setting off on our journey back home to Brora. All rested up, time to hit the road, although Icono had other ideas, he wanted to stay but who can blame him, the estate was lovely!
As we all trundled back north, I think within 20mins we all, bar from my husband who was driving fell asleep. Afterall it was such a long day but worth every minute of it! Arrived back home around 6PM, we were all glad to be home, especially Icono and his wee pal Misty both called for each other.
I would definitely recommend doing this ride to anyone who has not been before no matter how far you have to travel, the scenery is just lovely! I will be back again and with some friends too!
Thank you to World Horse Welfare for organising a fantastic event and thank you for letting me be Icono's rehomer! He is one in a million!!