Horse disease prevention
Caring for your horse includes protecting them against the threat of disease.
Caring for your horse includes protecting them against the threat of disease.
The subject of disease can cause a great deal of concern and stress for any horse or stable yard owner. However, there are some simple steps that we can all take to help reduce the risk of equine disease and ensure our horses stay fit and healthy.
Always obtain a full history of a new horse on the yard and undertake the necessary checks on vaccination history or any pre-arrival testing that may be required before it arrives.
Maintain and encourage others to undertake good personal hygiene by washing hands regularly, avoid touching and stroking unfamiliar horses and sharing equipment between horses, clean housing and equipment regularly and thoroughly disinfect between horses.
Avoid exposing your horse to unfamiliar horses or those with an unknown health status.
Any new horse arriving on the yard should be quarantined (kept separate) for three weeks before being introduced to other horses
Ensure all horses on the yard are up-to-date with their routine health treatment such as vaccinations and worm control measures. Use a health planner to keep track.
If you suspect your horse has a disease, isolate it immediately and contact your vet for advice.
Watch our video below for more advice on preventing disease.
Keep Your Horse Healthy aims to highlight the need for every horse owner to be aware of diseases such as EIA, Strangles and Flu, and offers simple steps to help protect against their entry and spread.
Download the Keep Your Horse Healthy pack below, or request your free copy from campaigns@worldhorsewelfare.org.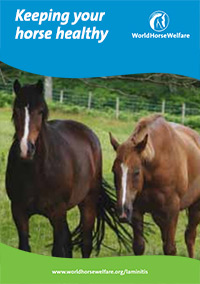 Download the Keeping your horse healthy pack
Find out how to keep your horse happy and healthy by preventing the spread of disease
Remember you can always call our Advice Line on +44 (0)1953 497 238.