Black gelding Clyde came into the World Horse Welfare's care in May 2018 after being found in a field, severely emaciated and with overgrown chipped feet. He was covered in lice and had chunks of hair missing from his coat where he had tried to rub to ease the irritation.
Could you give just a few pounds to help other ponies in need this winter?
Clyde was very lethargic when he arrived, with sunken eyes and no real will to survive. The team at Penny Farm worked hard to make him more comfortable, treating his skin condition and using a duvet under his stable rug so that his protruding bones didn't rub and create sores.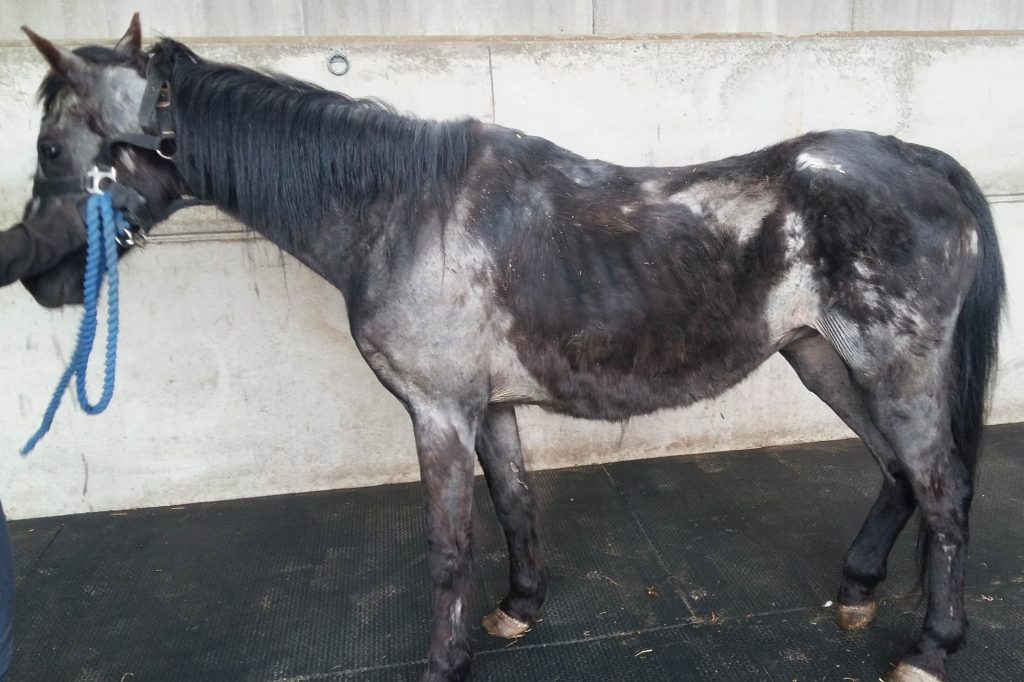 "Clyde was in such a poor condition on arrival that it took weeks of dedicated care and attention before he started to become interested in his surroundings and really respond to treatment. He's comes on in leaps and bounds since then and although he can still be a bit wary of new people his confidence is growing fast. He's turned into a very handsome pony and we were really proud to show him off at Equifest."

Karen Wright, Penny Farm Yard Supervisor
Thanks to the team's dedication, Clyde has been so successfully transformed that he was entered for the Equifest Rescue Pony class this year. Groom Kirstie turned Clyde out beautifully and the combination of his now-fabulous appearance and his heart-wrenching back story saw him crowned Reserve Champion Rescue Pony – quite an achievement given his condition on arrival in May last year.
Sadly there are many other horses and ponies out there whose lives have been blighted by abuse, ignorance or neglect, but with your help, we can reach more horses in need this winter. Will you donate today to help other ponies in need like Clyde?