Corporate Partnerships
Find out more about the many different ways your company can support us and create a mutually beneficial and bespoke partnership.
Find out more about the many different ways your company can support us and create a mutually beneficial and bespoke partnership.
There are 800,000 horses in the UK and 125 million equines globally. Significant welfare problems exist in every country, no matter the role of horse in society.
At World Horse Welfare, we help all types of equines both here in the UK and around the world, through education, campaigning and hands-on care. We also support the responsible involvement of horses in sport.
We work with companies to raise funds and awareness for our work, as well as to help our partners to achieve their CSR, ESG and marketing goals. There are many different ways corporates can support us and create mutually beneficial and bespoke partnerships.
How companies can work with and support us
Funding
We require funding for various projects and welcome employee involvement, strategic partnerships and pro-bono support as part of this. Our current projects include our welfare line, rescue and rehoming, our field officers and global projects.
Sponsorship
Sponsors are vital to enable us to deliver events uniting the equestrian world such as our annual conference and are offered a range of marketing benefits by return.
Sponsor a Stableyard
We are inviting companies to sponsor one or all four of our stableyards at our Rescue and Rehoming Centres, in Aberdeenshire, Lancashire, Somerset and Norfolk, to fund our vital day to day work in rehabilitating and caring for equines. Stableyard sponsors receive naming benefits plus unique opportunities to use our sites, volunteer and visit our centres.
Cause related marketing
Price and quality being equal, a cause related marketing campaign linking the World Horse Welfare brand to a product or service, either on pack or at the point of purchase, will both raise funds for the charity plus boost sales and/or customer loyalty for a brand.
Employee fundraising and charity of the year
Taking part in one of our fundraising events or organising your own is a great way to engage your team and boost morale and team spirit. Adopting us as your charity of the year is a perfect way to focus your team and really get to know us and our work.
Why support us?
We're a safe pair of hands – having been helping horses for nearly 100 years, we're an authority on all things equestrian
Make a real and tangible difference to many thousands, if not millions, of horses each year – via our UK and international work, plus our wide-reaching education work and campaigns
We support all areas of the equine world – horses in need, sport & leisure horses and working horses
Be part of our Centenary in 2027 – all supporters will be invited to take part in our high-profile celebrations
Scope for global partnerships – via our projects and partner organisations in 18 countries worldwide
Our partnerships
Baileys Horse Feeds
Since December 2020, Baileys has supported World Horse Welfare with feed and nutritional support for the equines in our care, at our four rehoming centres throughout the UK. To boost this support, Baileys is making an extra donation for every single promotional bag of Lo-Cal Balancer sold with a new cause related marketing campaign.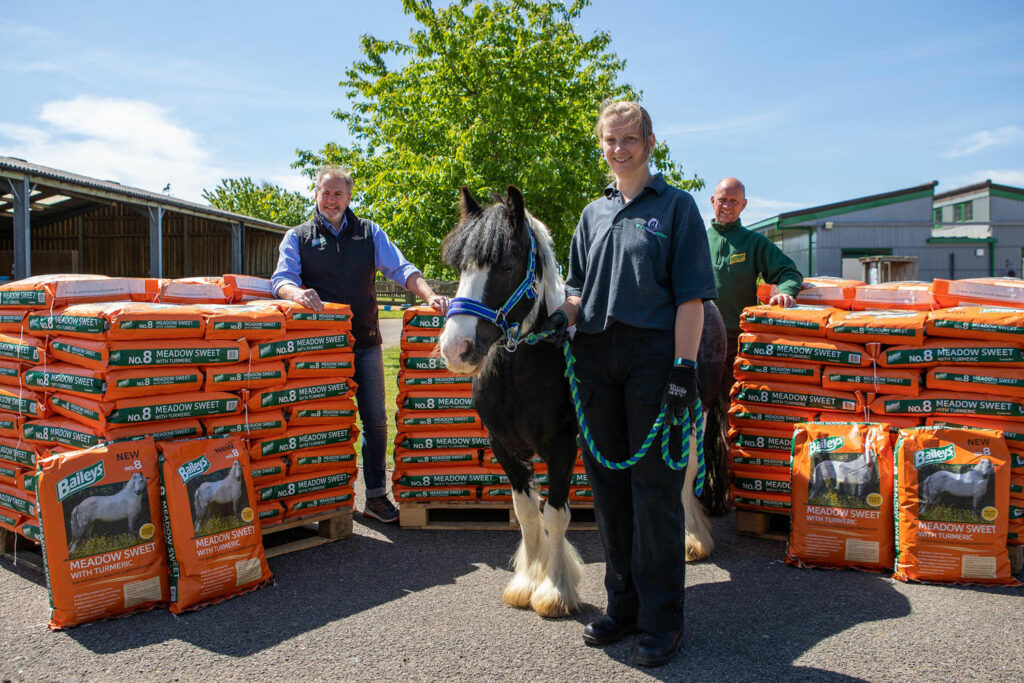 When a horse or pony is taken to one of our Rescue and Rehoming Centres, it is just the beginning of a lengthy and expensive process, with each horse being carefully looked after, assessed and rehabilitated by the charity for many months before, hopefully, being ready to rehome. Feeding is a key part of the recovery process for all horses who arrive at the rehoming centres, whether it's helping malnourished horses to regain weight and condition or supporting those who may be overweight to slim down healthily.
"We're proud to support World Horse Welfare and their teams, rehabilitating all kinds of horses, whether over- or underweight. Our range ensures balanced nutrition can be provided, whatever their calorie requirements and we're able to promote the work of World Horse Welfare through our own activities and contact with horse owners."

Graham Rice, Business Development Manager for Baileys Horse Feeds
Carr & Day & Martin
Global leaders in equine care, Carr & Day & Martin are releasing of a special edition commemorative bottle of their best seller, DREAMCOAT, in celebration of the Platinum Jubilee of Queen Elizabeth II.
For every bottle of the commemorative DREAMCOAT sold, Carr & Day & Martin will donate £2 to World Horse Welfare with a new cause related marketing campaign.
They also provide support with in-kind products for our four Rescue and Rehoming Centres.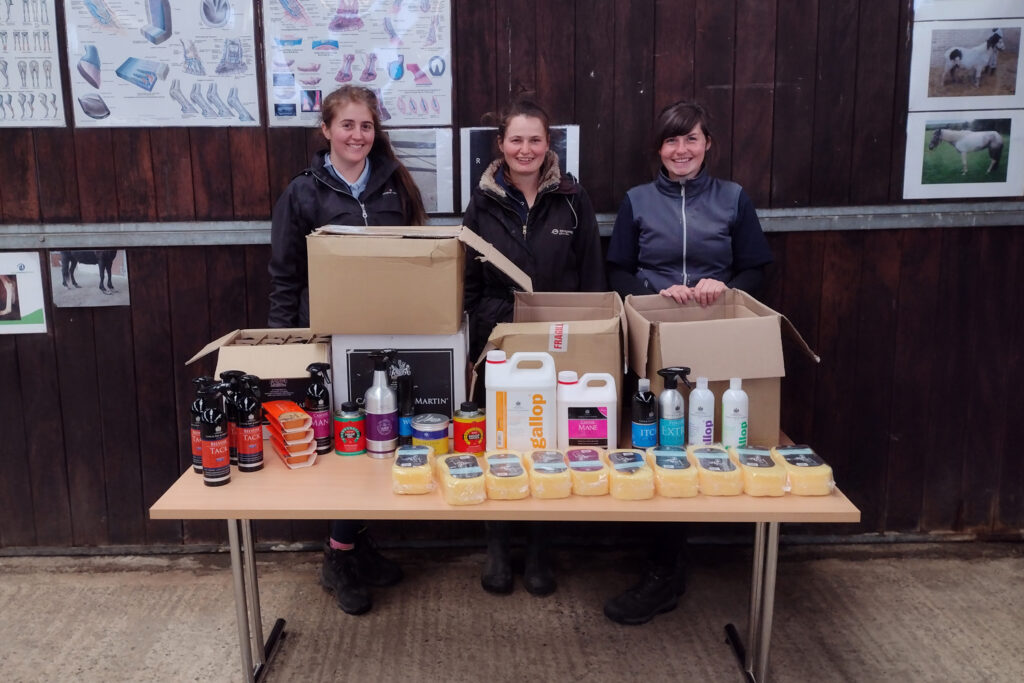 "We are looking forward to celebrating the Queen's Platinum Jubilee and are excited to bring this very special bottle of DREAMCOAT to our customers to mark this momentous occasion.

"We are delighted to be partnering with World Horse Welfare who do incredible work. At Carr & Day & Martin we put the horse at the centre of everything we do and with so many shared values, it was the perfect opportunity to partner with World Horse Welfare."

Caroline Davis, Brand Manager
MSD Animal Health
MSD Animal Health is a long term sponsor of our annual conference and is now a corporate sponsor of our stableyard at Hall Farm Rescue and Rehoming Centre.
In return for annual sponsorship, the company receives access to our farm for employee volunteering, team meetings, content for social media, plus on-site branding.
Harry Hall
World Horse Welfare is a Harry Hall charity partner for 2022, alongside two other equine charities. During 2022, anyone joining the Harry Hall One Club, taking out a new insurance policy or going shopping at harryhall.com will trigger a donation to the charity fund. There will also be the option for customers to make their own additional donations at the checkout. Every single penny we receive will make a difference to horses and ponies in need.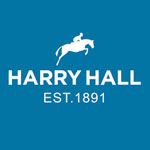 "Harry Hall is committed to helping others less fortunate than themselves and supporting the causes that are important to Harry Hall One Club members, customers and their employees. Our love for horses and the friends that we make along the way, for the team at Harry Hall and the One Club Members, this is a lifestyle, not a hobby. Harry Hall takes great pride that World Horse Welfare is one of the three charity partners Harry Hall supports."
To find out how your company can work in partnership with us, please contact our Major Gifts team on +44 (0)1953 497 239 or by emailing fundraising@worldhorsewelfare.org.