Corporate Partnerships
There are many different ways your company can support us and create a mutually beneficial and bespoke partnership.
There are many different ways your company can support us and create a mutually beneficial and bespoke partnership.
We would be delighted to meet with you to talk about the various options, ranging from sponsorship of an event, donating a percentage from the sale of a product, gifts in kind, charity of the year opportunities, fundraising events held at your work place, or sponsoring the rehabilitation of a horse. We will work to ensure that your charitable support will fit your company's CSR policy. We can offer as a starting point:
Alignment with a leading horse welfare charity, helping horses in the UK and internationally through a wide range of engaging opportunities including high-profile campaigns and fundraising events.
Recognition of your support through our media channels and communication to a dedicated supporters base.
Selected invitations to social and fundraising events, including our annual conference which is attended by 400 delegates from across the equine industry.
Bespoke visit to our UK Rescue and Rehoming Centres to meet the horses you help.
The difference you will make is simple – your support will improve the lives of tens of thousands of horses every year. World Horse Welfare is the only charity which helps all types of equines both here in the UK and around the world, through education, campaigning and hands-on care. We also support the responsible use of horses in sport and are welfare advisors to the BHA and FEI. Read below case studies of how we have worked with companies to help even more horses.
Alpha Card
Alpha Card has been working with World Horse Welfare since 2016 when the charity was Mitsubishi Motors UK Badminton Horse Trial's charity of the year. Alpha Card fully sponsored the production of our Invisible Horse Trail map, which was used by over 10,000 visitors who took part in the hugely popular Invisible Horse Trail.
In 2017 World Horse Welfare celebrated its 90th anniversary by exhibiting a garden at The RHS Chelsea Flower Show. To accompany the garden Alpha Card sponsored the production of a Pocket Guide to Poisonous Plants, helping World Horse Welfare to raise awareness about potentially hazardous plants to thousands of people within the equestrian community.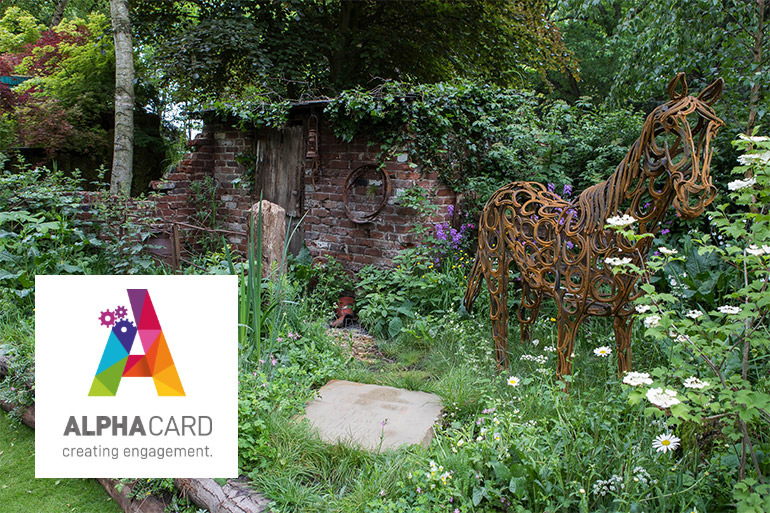 Katherine Fox, Operations Director, says:
"Alpha Card is delighted to offer our continuous support to World Horse Welfare. As a team of animal lovers with horses of our own, we are extremely passionate about the critical care they provide for horses in need, whilst working hard to increase awareness of the unfortunate numbers of forgotten horses worldwide. The World Horse Welfare team area a real credit to the organization, showcasing their genuine passion and love for horses at every opportunity, and we look forward to working with them for years to come."
If you are interested in learning more about the impact of our work and in supporting the charity through your business, please contact Nikki in the Major Gifts team:
Please contact Nikki Grint on +44 (0)1953 497 239 or by email at fundraising@worldhorsewelfare.org.