Halloween is usually great fun for visitors and team members alike at our Rescue and Rehoming Centres, but with circumstances rather different this year we thought we'd better come up with an alternative kind of Halloween fun!
Instead of having "spooktacular" bakes on sale in our coffee shops we thought we'd share some of our Halloween-themed recipes for our supporters to make at home. Perhaps you could "trick" your family with these spooky bakes – and maybe they'll be inspired to make a small donation to "treat" our ponies!
If our recipes inspire you to give some Halloween-themed baking a go we'd love to see pictures of your efforts – you can send them in to our Facebook pages or email pfvisitorofficer@worldhorsewelfare.org. Now, the big decision – will you try out the spider cookies, trick or treat cupcakes, or trick toffee apple cake?
Spider cookies
Ingredients
150g butter (allowed to soften to room temperature)
80g light brown sugar
80g caster sugar
2 tsp vanilla extract
1 large egg
225g plain flour
½ tsp bicarbonate of soda
¼ tsp salt
150g chocolate chips
Rolos, Mini Reeces Peanut Butter rounds or giant chocolate buttons (for the the spiders' "bodies"!)
Icing to decorate – you can buy this or make your own and add food colour – or you can melt chocolate!
To make the cookies
Line two baking sheets with non-stick baking paper and heat your oven to 190°C/fan170°C/gas 5.
Put the butter and both kinds of sugar in a bowl and beat until creamy.
Stir in the vanilla extract and the egg.
Sift in the flour, bicarbonate of soda and salt and mix it in.
Pour in your chocolate chips and mix well.
Place small scoops of the mixture (about a teaspoon) on your baking trays, spacing them well apart.
Bake for around 8-10 minutes – they should be light brown on the edges and still slightly soft if pressed in the middle.
Allow them to cool slightly and then press a Rolo or Reeces Piece in the middle of each cookie, before allowing them to cool completely.
Once cool, you can add the legs by piping either melted chocolate or coloured icing.
For the eyes, you can either use icing/melted chocolate, or chocolate chips (in which case add them with the Rolo/Reeces Piece/chocolate button).
Trick or treat cupcakes
Ingredients (cupcakes)
4oz butter
8oz caster sugar
6oz self-raising flour
2 eggs
125 ml milk
Ingredients (icing)
125g butter
250 g icing sugar
Food colouring
To make the cupcakes
Heat your oven to 180°C/160°C fan/Gas 5.
Beat together butter and sugar until creamy.
Mix in the eggs and milk.
Sift in the flour and beat until smooth.
Place mixture in 12 cupcake cases – for the Halloween "trick" twist try any of the following:
* Add a tsp jam to middle of each cupcake.
* Dip a skewer into food colouring and swirl through mixture.
* Add a few raisins or chocolate chips.
Bake for 20 mins until firm to touch and then leave to cool.
Decorate with your coloured butter icing.
You can make the icing whatever colour you prefer – we've used green and orange but why not unleash your creative side? You could even design a spider web and then top with Halloween-themed sweets of your choice – we like marshmallow ghosts!
Trick toffee apple cake
For this one you can make your favourite recipe if you feel like it but for the ultimate trick toffee apple cake buy a cake of your choice, cover it in caramel sauce and just add toffee apples!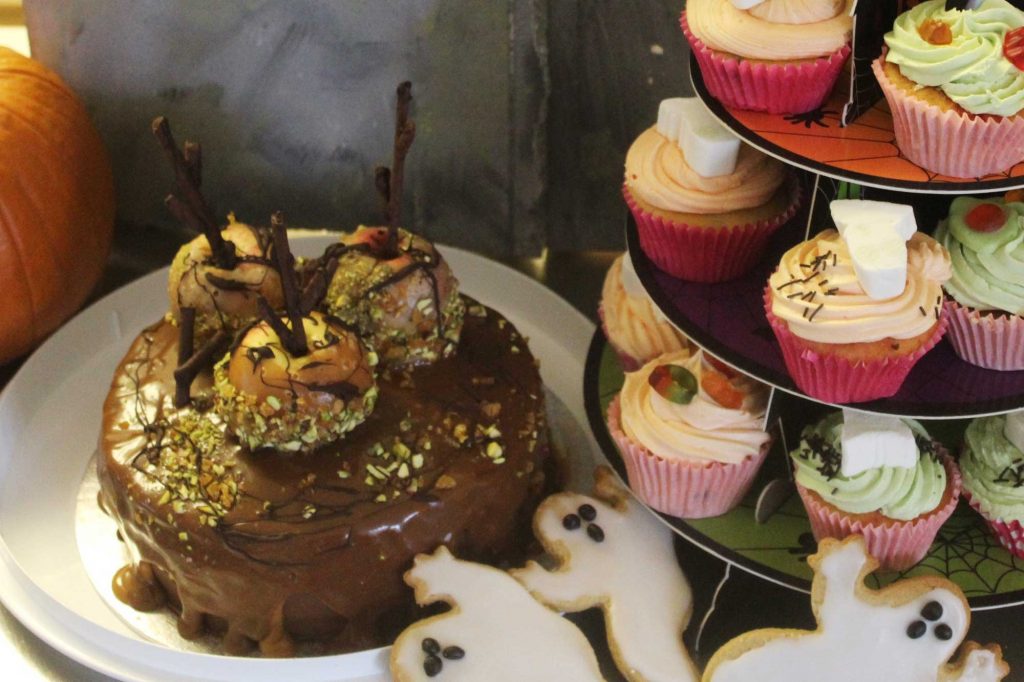 We hope you enjoy our Halloween-themed recipes – do send us pictures of your efforts! If you'd like to "treat" our ponies you can make a donation here.