Following on from the success of the 2016 Invisible Horse Sculpture Trail at the Mitsubishi Motors Badminton Horse Trials, in 2019 we decided to create a 40 sculpture, multiple-location trail to highlight the positive stories of the horses helped by our work around the world.
The master sculpture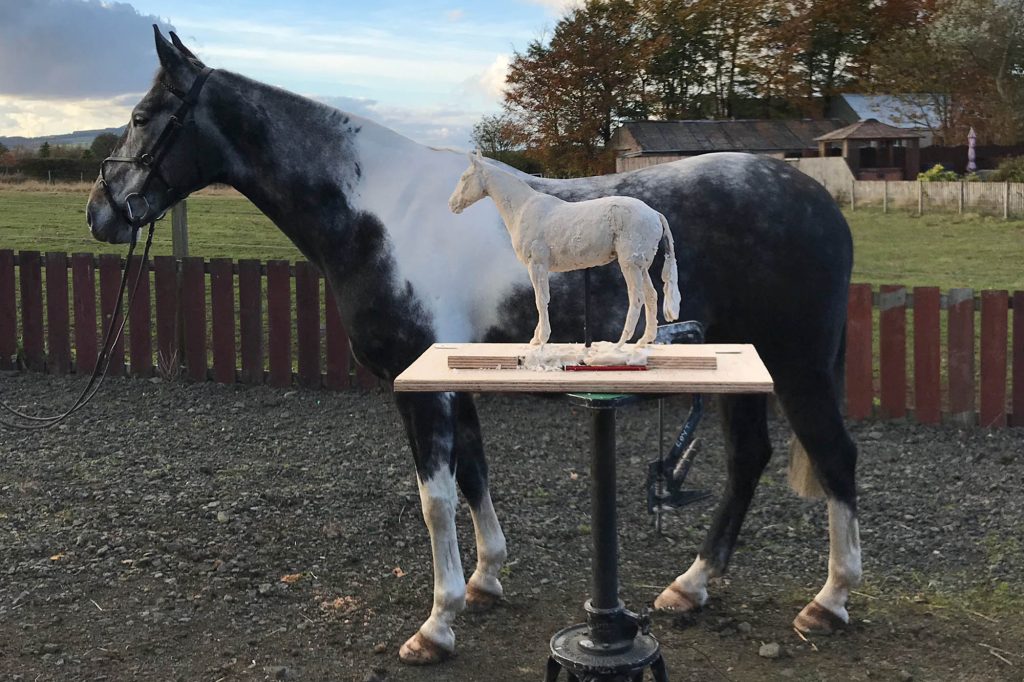 The master sculpture itself was created by acclaimed artist Judy Boyt based on the story of Lucas, a frozen and abandoned foal who was rescued by World Horse Welfare and has flourished into a beautiful sport horse. You can also enter a free prize draw to win a beautiful maquette of India, Lucas' mother.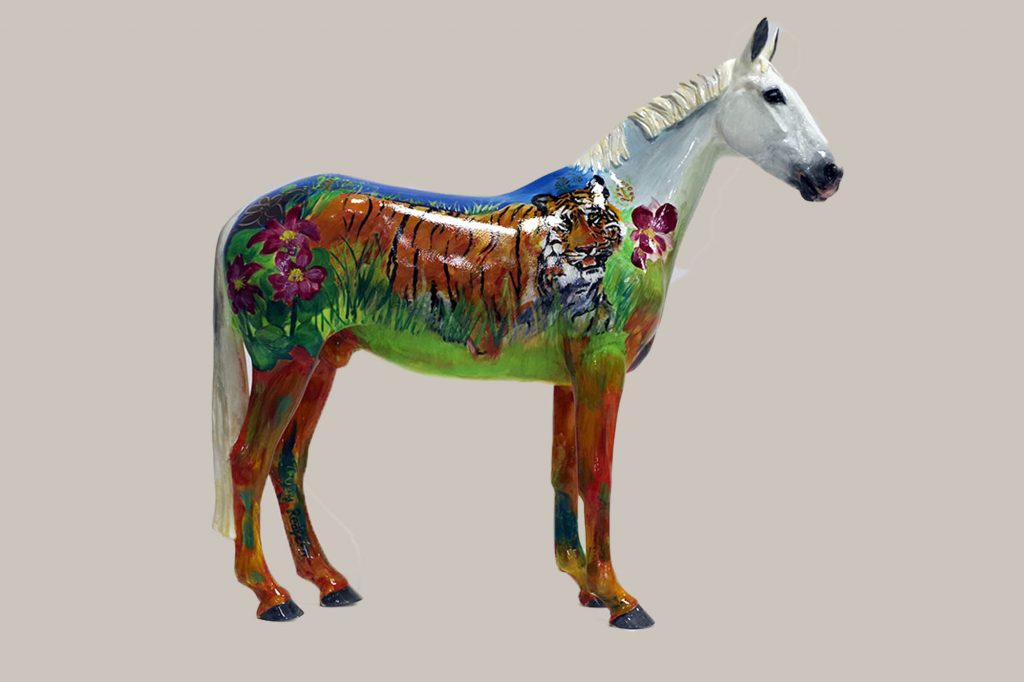 The World Horse Trail auction
The incredible sculptures will be auctioned off in November to raise funds to help horses and pre-bids can be made at the online World Horse Trail auction site now.
About the Trails
The World Horse Trail tells the stories of horses which we have helped as well as highlighting other areas of our work with horses in sport. A number of the sculptures feature working horses from countries like Haiti where families rely on their horses to make a living.
The unique designs for the sculptures were kindly created by artists, celebrities, students and members of the public and inspired by the stories or names of the horses. The World Horse Trail was proudly supported by the Beaverbrook Foundation.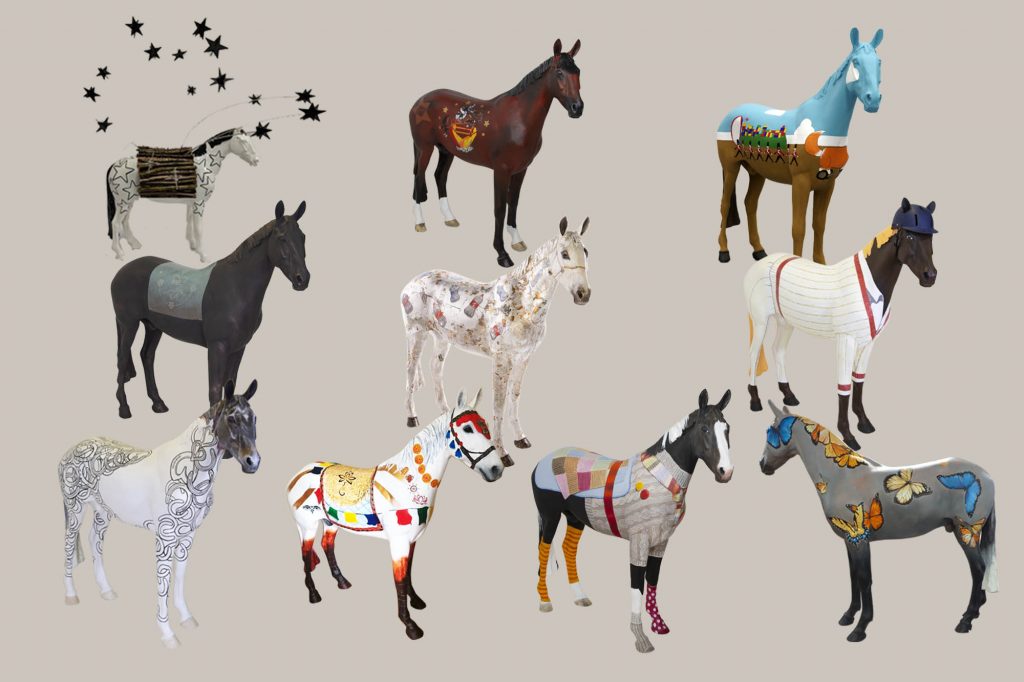 Ten of the large sculptures featured on the Show Trail, which was launched at Royal Windsor Horse Show with much success before travelling to a number of other venues over the summer. The Borough Trail comprised a further ten large sculptures, which were first sited in the Royal Borough of Windsor and Eton, before moving to Kensington and Chelsea to be enjoyed by a new tourist audience.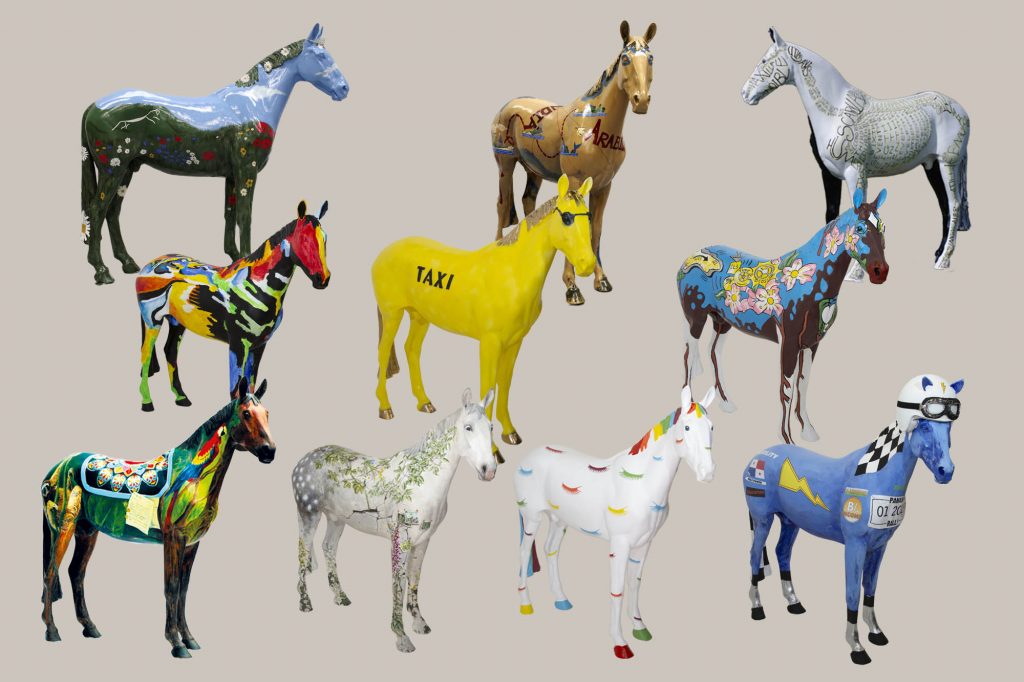 The Farm Trail saw five mini-sculptures, or maquettes, featured at each of our four Rescue and Rehoming Centres around the UK. Four Haiti-inspired designs on the Farm Trail were the winners from a sculpture design competition for under-16s judged by YouTube sensation This Esme.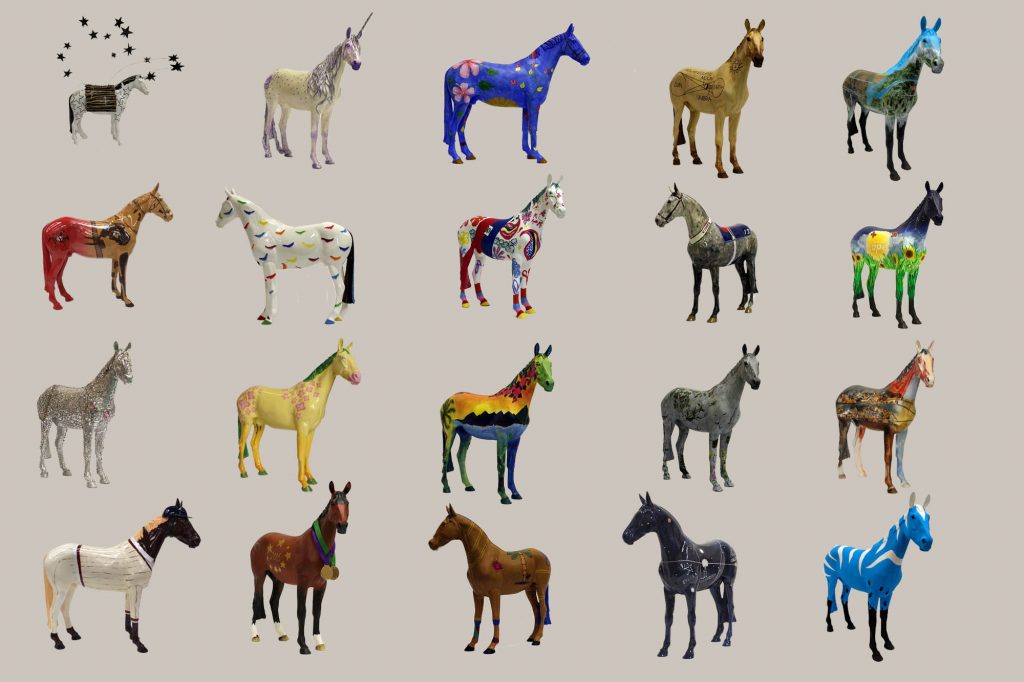 The winner for the sculpture design competition for those aged 16 and over was chosen by World Horse Welfare Patron and Olympic gymnast Suzanne Dando-Reynolds BEM.
"I am delighted to be judging the World Horse Welfare World Horse Trail competition. The 2016 trail was a huge success with some amazing designs on our sculptures. This is a fun and innovative way to help raise vital funds for the work we do at World Horse Welfare, not just here at home but throughout some of the poorest countries in the world. So, put your creative hat on, pick up that paint brush and help a horse in need today! Good luck."

Suzanne Dando-Reynolds, World Horse Welfare Patron
The World Horse Trail artists and sponsors
The trail artists were:
Cheryl Johnson, winner of the 16+ design competition
Katie Barrett, runner-up in the 16+ design competition
Zara Tindall MBE with Rob Williams
Jennifer Bell, accomplished equestrian artist
Judi Milne, tattoo artist and creator of Lucas' design
Nick Skelton CBE with Rob Williams & Georgina Leigh
Nichola Eddery, fine artist
Katie O'Sullivan, accomplished equestrian artist
Deborah Meaden with Jan Jacquelin & Georgina Leigh
Jonathon Agnew MBE with Rob Williams
David Shilling, founding father of modern millinery
Sarah Aspinall, specialist equestrian portrait artist
Julian Seaman, visiting tutor in fashion design at Central Saint Martins
Lee McKenzie, television presenter and World Horse Welfare Patron
Gillian Higgins, founder of Horses Inside Out
Martin Clunes OBE with Jennifer Bell
Judy Boyt, sculptor and designer
Jamie Osbourne, renowned racehorse trainer
Sara Cox, radio DJ and World Horse Welfare Patron
Rob Williams, cartoonist and caricaturist
Alan Titchmarsh MBE
Gabriella Shaw, ceramic artist
Students from the Artist, Designer: Maker course at Cardiff School of Art & Design
Gudrun Martin, winner of the under-16s design competition
Frances Plume, World Horse Welfare Supporter Fundraising Officer
Alex Hua Tian with Rob Williams
This Esme, YouTube star
Emma Seaton, winner of the under-16s design competition
Mona Curtis-Bennett and Ruth Sadler
Michelle McCullagh, fine artist
Pippa Funnell MBE with Rob Williams
Alexandra Jackson, winner of the under-16s design competition
Suzanne Dando-Reynolds BEM with Sue Millman
Alex Hammond, reporter and television presenter
Olivia Williams, winner of the under-16s design competition
Trudy Redfern, equestrian artist
The sculptures were very kindly sponsored by:
TCS Media
Westgate Labs
AlphaCard
Peden Bloodstock
Ascot Racecourse Supports
Hy Equestrian
Retraining of Racehorses (RoR)
The Beaverbrook Foundation
British Horseracing Authority
Amalgam
The Jockey Club
Lincoln Horse Care
Wimbledon Village Stables
Daylesford Organic
Chasemore Farm
Horse & Hound
Interaction Marketing & PR
HPower
Eskimo EPOS
Stevenson Brothers Rocking Horses
Stallion AI Services
Matthew Seed – The Horse Photographer
Alltech
PetMeAway
Harry Hall
Mole Valley Farmers
Westwood Forster
The Sir Peter O'Sullevan Charitable Trust
Derby House
Sharp/Copy IT
Donald Nicol Farriers Ltd
The Saddlers' Company
The Pony Club