Our Glenda Spooner Farm Rescue and Rehoming Centre, in Somerset, needed a new weighbridge last year after the old one – a vital part of the rehabilitation and management of our horses and ponies – stopped working. Fortunately, Petplan very generously donated £8,150 to cover the cost of a new weighbridge, which has now been installed, as well as three years' servicing fees.
Horses and ponies come into our care from all sorts of background and for numerous reasons, but one thing many of them have in common is arriving at an unhealthy weight. Whether the horse needs to gain or lose weight, weigh tapes are very useful for monitoring their progress but don't always measure a horse's bodyweight accurately.
With weight management playing a huge part in our horses and ponies' rehabilitation, our Rescue and Rehoming Centres all have weighbridges to enable the team to gather accurate data. Close monitoring of our horses and ponies is especially important now that the grass has started to grow in earnest, as they can gain weight remarkably quickly – something which can't accurately be detected by eye.
Centre Manager Claire Dickie explains why the weighbridge is such a key piece of equipment:
"Our weighbridge is an absolutely invaluable piece of equipment at our Rescue and Rehoming Centre, Glenda Spooner Farm in Somerset. Frequently horses arrive either terribly underweight or obese. Each of our horses and ponies undergoes a tailor-made rehabilitation plan and accurately monitoring and recording body weight is a critical part of tracking their progress.

"The data the weighbridge allows us to gather enables us to make adjustments as and when required, ensuring horses' treatments are effective and their rehabilitation stays on track. It is also critical when administering medicines that all animals receive correct dosage. Being able to weigh our horses accurately really does play a vital role in managing their overall health so we're very grateful to Petplan for funding our new weighbridge and would like to say a huge thank you to them."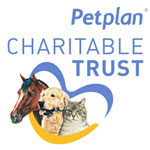 Find out more about Petplan via their website or follow them on Facebook, Instagram or Twitter.
Read more about weight management